Nice. (via)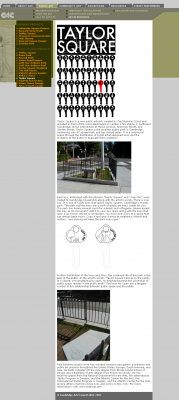 Taylor Square is a new public artwork created by Paul Ramirez Jonas and installed in front of the renovated Engine 8, Ladder 4 fire station in northwest Cambridge, at the intersection of Huron Avenue, Sherman Street, and Garden Street. Taylor Square is the smallest public park in Cambridge, measuring only 57 square feet, and has locked gates. It is a communal space through the distribution of 5,000 artist-designed keys and the invitation to the public to duplicate them endlessly.
Each key, embossed with the phrases "Taylor Square" and "Copy Me", were mailed to Cambridge households along with the artist's words, "Here is your key. It is one of 5,000 keys that opens Taylor Square, Cambridge's newest park. The park and the keys are a work of public art that I made for you. The park has barely enough room for a bench and a flagpole; please accept this key as its monument. Add it to your key chain along with the keys that open your home, vehicle or workplace. You now have a key to a space that has always been yours. Copy it and give it away to neighbors, friends and visitors. Your sharing will keep the park truly open."
Further distribution of the keys and, thus, the sustained life of the park is the task of the public. In the artist's words, "Taylor Square belongs to the public. It is closed, yet simultaneously open, re-emphasizing that the ownership of public space resides in the public itself." The keys for Open are a tangible symbol of this relationship between public space and the public.
Paul Ramirez Jonas's work has included museum and gallery exhibitions and public art projects throughout the United States, Europe, South America, and Asia. He holds a Master of Fine Arts degree from Rhode Island School of Design and a Bachelor of Arts degree from Brown University. He has received grants from the National Endowment for the Arts, the International Studio Program in Sweden, and the Atlantic Center for the Arts, the International Studio Program in Sweden, and the Atlantic Center for the Arts, among others. Ramirez Jonas lives and works in New York. For more information, visit: www.automat.com.