I've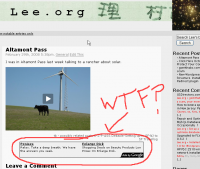 noticed that Google Ads sometimes serves up ads into my blog that I think are offensive (and bizarre). I'm trying to get rid of them by putting them in my "competitive ad filter" in Google Adsense. We'll see how it goes. (grumble grumble)
I also just started using Google Adsense section targeting. I now put my post content inside these tags. Google should now be able to parse my posts easier.
<!– google_ad_section_start –>
My content blah blah blah.
<!– google_ad_section_end –>
Update 3-5-08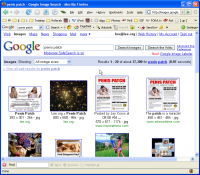 Ah ha. I figured out why my site has started seeing lots of penis related Google Ads. The title of the photo on my peni[nospam]s patch page is peni[nospam]s-patch.jpg. My site is apparently the most popular image site on the internet related to peni[nospam]s patches. You'll notice that the second most popular "peni[nospam]s-patch" photo is the photo I use in the upper right corner of my blog header. Apparently, the two photos had their google-juice comingled (eiw!). And while I enjoy being a being a peni[nospam]s patch magnate, I think I'll change the name of that file so all my Google ads aren't so…. patchy.
Update 3-13-08: Over the last 7 days, the hit count for the peni[nospam]s patch image has fallen from 230/day to less than 25/day.