In the coming weeks, I will republish articles I wrote under the title "Click Here". You can find them all under the Click Here Articles category in this blog.
From 2002 to 2005, I worked with two publications, The Panther and Around The Greens. Actually, I helped quite a bit with them in addition to writing articles.
T
he Panther is the official publication of The Panther Valley Property Owners Association. I was a member of the Communications Committee, helping to get the newsletter out and helping with various initiatives in the Valley.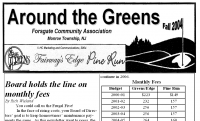 Around The Greens is the official publication of the Forsgate Community Association. My aunt Ernestine McCarren ran the publication from 2003 to 2004. I wore many hats, technical advisor, graphic design and writer. I was instrumental in helping to put together the proof. We used Microsoft Publisher 2003. I did most of the ads. I'd get a laugh every time an advertiser would give us an old crinkled newspaper ad with their logo on it and say, "Here you go. Use this logo but make it a half-page ad instead of side-bar. Oh and our hours and location have changed." They had no idea that in order to make that work, I'd usually have to rebuild the entire ad from scratch. But with the crinkled sheet, the best I could do for them was… not as good as they should care about their business!
During this time I was promoting my business, "The Computer Guy". My tagline was "I go to people's homes and small businesses, fix their computers and show them how they work." To promote myself as an expert in the field, I wrote a series of articles with the title of "Click Here". Over the next few weeks, I will republish those articles here. Computers being what they are, some of the content is out of date but much of it is still useful. In any case, it's interesting reading (at least I think so).
It was an enjoyable challenge to write for print. You are always watching your word-count; I would write the first draft of my 450 word article, do a word-count and find out that I was over by 600 words. Taking an axe to my own articles showed me that I could write very concisely when I had to and not lose the intention of the work.