My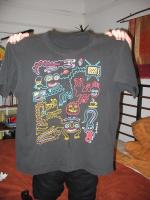 favorite t-shirt is one that I purchased about 15 years ago in Boston. People often ask me about it. They are simply memorized by it! I likely purchased it at a Tufts University on-campus sale. I've been meaning for years to try and find more by the same artist, Ken Brown.
I tracked him down via the Mirror Image website. Rick Roth at that site forwarded my message on to Ken and he wrote me back.
He wrote
Rick forwarded this little time capsule today and it gave me a chuckle. I wish I could help you out with a shirt selection, but I've been out of the biz for many years. I do miss it though and may yet reconsider. Meanwhile, check out hoopla.org (the ken Brown section at the top o the noggin') for recent rantings. )
I took a look and… wow, that art brings back memories and gives me a great smile. I'm pretty sure I recognize a few and I -definitely- recognize the style. It reminds me of a card and "stuff" store that was on Mass Ave near Gypsy Moon. Apparently, he's the guy they bought all their cards from!
Take a look at Ken Brown's comical commodities!