Megan's Quick and Delicious Pasta Sauce
From Recipes
Jump to navigation
Jump to search
Quick and Delicious Pasta Sauce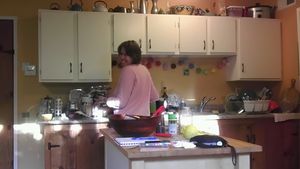 1-2 T coconut oil
1 yellow onion
3 cloves garlic, roughly chopped
2 fresh sausages (or ground meat)
1, 14-oz can fire roasted crushed tomatoes
½ pint sugar plum tomatoes from TJ's chopped in half
½-1 cup frozen spinach
1 yellow bell pepper roughly chopped
½ pint chicken broth
Sauté onions & garlic in pan with coconut oil.
Add sausage/meat and sauté. Set aside meat for later.
Add fresh and canned tomatoes and spinach.
Add chicken broth if too thick.
Simmer at low heat for awhile (20-30 min.)
About 5 min before you're ready to eat, add bell pepper. Return meat to pan.
Simmer another 5 min or so.
Serve over quinoa pasta (or your favorite kind).
Pan Seared Brussels Sprout
1-2T coconut oil
30-40 fresh Brussels sprouts (on the stalk if possible) cut in half
½ yellow onion diced
Warm up cast iron pan.
Add coconut oil.
Sauté onion a 2 min.
Add Brussels sprouts.
Cook at med-high heat to sear flat sides. Stir as needed to brown but not burn.
Lower heat, cover with lid, add a little chicken stock to help steam sprouts.
Test with fork, and serve al dente.

Made by Megan 10-14-12