Christmas in Peru
From Recipes
Jump to navigation
Jump to search
Christmas in Peru, a delicious cocktail we made for Monica and Malcolm's 2019 Cocktail Party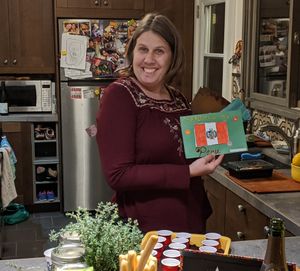 AKA Chilean Holiday Punch (Cola de Mono)
From https://www.thekitchn.com/recipe-chilean-holiday-punch-cola-de-mono-238374
Chilean Holiday Punch (Cola de Mono)
SERVES 12 to 14
INGREDIENTS
1 cup granulated sugar
1 cup cold water
1/2 ounce Mexican cinnamon sticks (about 4 sticks)
2 whole cloves
1 quart (4 cups) whole milk
1 1/2 cups freshly brewed strong coffee, cold
1 1/2 cups Chilean pisco
1 teaspoon vanilla extract
INSTRUCTIONS
Place the sugar, water, cinnamon sticks, and cloves in a small saucepan and bring to a boil. Reduce the heat as needed and simmer for 5 minutes. Set aside to cool to room temperature.
Transfer the syrup, including the whole spices, to a large pitcher. Add the milk, coffee, pisco, and vanilla, and stir well to combine. Cover with plastic wrap. (Optional: Transfer to glass bottles and seal.) Refrigerate until chilled, a few hours or overnight.
Pour about 1/2 cup of cola de mono in small tumbler glasses. Always serve very cold paired with Christmas cookies, stollen, or as it is traditional, with pan de pascua (Chilean-style fruitcake).
RECIPE NOTES
Coffee: Use a medium or dark roast coffee. I used French roast and it worked wonderfully.
Dairy-free version: Make a dairy-free version using unsweetened almond milk.
Spices: The traditional combination of spices is cinnamon, clove, and vanilla. Some people also add nutmeg, star anise, or orange peels (without the white pith). Play and personalize yours!
Liquor options: Use Chilean pisco, Chilean aguardiente, Italian Grappa, or Peruvian Pisco. Chilean pisco or aguardiente works better because it imparts the traditional flavor. Also, as its aromas are more subtle than in Italian grappa or Peruvian pisco, it doesn't overshadow the coffee and spices. Chilean pisco brands sold in the U.S. are Capel, Alto del Carmen, Mistral, Kappa, and Wakar.
Storage: The punch can be stored in the refrigerator for up to to 5 days.