Corn Fritters
From Recipes
Jump to navigation
Jump to search
This is a very simple recipe but one of Lee's favorites. Probably because it reminds him of his all-time favorite, Pumpkin-Flower Fritters.
I remember Gram making these in Smoke Rise and on Grassy Island Ave. In Jessup, the flowers came from the next door neighbor's garden. I remember in New Jersey, she stood at the island in the kitchen frying these up in a red enameled, cast iron pot and I'd come by every few minutes to take one that had cooled enough to eat. I remember her telling me repeatedly that I should slow down because, "there won't be any left over for anyone else!"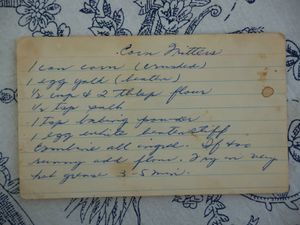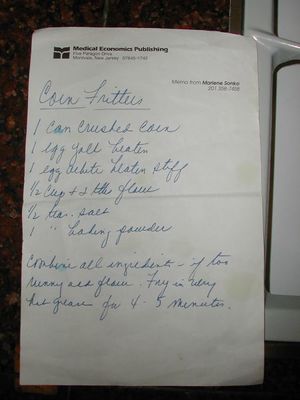 1 can crushed corn
1 egg yolk beaten
1 egg white beaten stiff
1/2 cup + 2 tbsp flour
1/2 tsp salt
1 tsp baking powder

Combine all ingredients - if too runny, add flour. Fry in very hot grease for 4-5 minutes.