A friend, let's call her Sally, commented on my Facebook post of 9-27-09. I didn't have enough room to respond properly there so here we go. Sally writes "Statistically, countries that allow people to have guns have more gun violence and deaths than countries that don't allow people to have guns."
I disagree and have a lot of data to back up my assertion. Let's discuss.
If you'll allow me, let's change that supposition to "I believe there is a strong correlation between a country's gun ownership restriction policies and it's homicide rate."
I was trying to change your wording from "countries with more guns have more gun violence" to "countries with more guns have more violence in general" because, well, that's what's important, isn't it? And by changing that wording, we are avoiding an easy trap, of course places with more guns will have more gun violence, but knives, clubs and rocks can kill you just the same. Sally, does that work for you?
Sally, if that works for you then we can't use the two sites you quoted (1)(local archive), (2)(local archive) since they talk about "gun deaths" and not "homicides". I welcome you to re-google some articles. Here's an appropriate one  (local archive). (you'll notice that the US is at the top of the "Firearms Death Rate" chart but way down in the middle of the "Intentional Homicide Rate" chart)
————————————————–
Let's start with some statistics in America. How about we compare gun ownership levels in individual states with their homicide rates?
Gun Ownership rates can be found here  (local archive) and gun death rates can be found here  (local archive: choose "firearm" and select output group "state")
Simply put those two together in a graph and note that there is somewhere between no correlation and a NEGATIVE correlation between gun ownership and violence in the United States! Here's  an article  (local archive (sorry, the original source wasn't available when I went to grab this archive)) on the subject. (there are many more, google for them) and some graphs on the subject 1, 2, 3  (sorry, I didn't grab local archives of these before they went offline).
————————————————–
Ok, that was the warmup. Let's try some European country statistics. I borrow this table from a Harvard University paper "WOULD BANNING FIREARMS REDUCE MURDER AND SUICIDE? : A REVIEW OF INTERNATIONAL AND SOME DOMESTIC EVIDENCE DON B. KATES AND GARY MAUSER" (local archive). The paper is very well researched with lots of footnotes quoting many very reliable sources.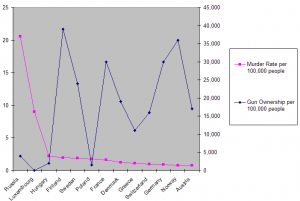 Nation		Murder Rate Rate of Gun Ownership
Russia		20.54 [2002] 4,000
Luxembourg	9.01 [2002] c. 0
Hungary		2.22 [2003] 2,000
Finland		1.98 [2004] 39,000
Sweden		1.87 [2001] 24,000
Poland		1.79 [2003] 1,500
France		1.65 [2003] 30,000
Denmark		1.21 [2003] 19,000
Greece		1.12 [2003] 11,000
Switzerland	0.99 [2003] 16,000
Germany		0.93 [2003] 30,000
Norway		0.81 [2001] 36,000
Austria		0.80 [2002] 17,000
"Hey wait!" you say, "If I squint at that data, it looks like there is a NEGATIVE correlation between gun ownership and the murder rate." Yup. Read on.
The same pattern appears when comparisons of violence to gun ownership are made within nations. Indeed, "data on firearms ownership by constabulary area in England," like data from the United States, show "a negative correlation,"
and…
A second misconception about the relationship between firearms
and violence attributes Europe's generally low homicide rates to stringent gun control. That attribution cannot be accurate since murder in Europe was at an all‐time low before the gun controls were introduced.
and…
two recent studies are pertinent. In 2004, the U.S. National Academy of Sciences released its evaluation from a review of 253 journal articles, 99 books, 43 government publications, and some original empirical research. It failed to identify any gun control that had reduced violent crime, suicide, or gun accidents.15 The same conclusion was reached in 2003 by the U.S. Centers for Disease Control's review of thenextant studies
Again, this paper uses extensive footnotes. Don't take their word for it, take the word of the more than 100 experts in the field they quote which include folks like the Center for Disease Control, the World Health Organization, and fricking everybody. Read it for yourself and follow the footnotes.
————————————————–
Sally, you also wrote, "No one really needs an AK47 for example. I also don't think the 2nd amendment meant for individuals to bear arms"
This is simple. Answer two questions for me.
What is the general purpose of a militia? (to fight a war)
Who is expected to supply the armaments in a militia, the government or the individual members? Since the express purpose of the Bill of Rights as stated in its preamble is to prevent the abuse of the powers of the government, the answer must be "the individual members".
So, lets say that you are a militia member. Would you want to own a crappy gun or a good gun? Let's take that one unnerving step further and say you are a government who's people you want to abuse. Would you want militias to have crappy guns or good guns?
Sally says, "And the beautiful thing about this country, even though sometimes we all complain about it, is that we can all disagree. :)"
And if you want to keep your right to disagree as stated in the First Amendment, I suggest you support all the others with all your strength! Please support the second  amendment  by calling Governor Schwarzenegger today!