Apparently I've been stumbled-upon.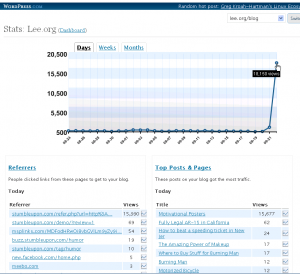 They sure like them funnies.
Super-Cache is working fine. Though I've gotten a few core dumps today. Figuring out what's causing that will be a bother….
update 3pm: cores still dumping :-(. Just hit 30,000 views of "Motivational Posters" today. It's funny how the rest of the site isn't being visited at all; short attention span theater, eh?
update 9-23-08 10am: I upped the Super Cache settings to Garbage Collection every 5,000 requests, set a few pages to be Directly Cached files (Motivational Posters, The Amazing Power of Makeup, homepage). And there hasn't been a core since last night. 41,000 hits to Motivational Posters so far today, 2,500 to The Amazing Power of Makeup.
update 9-24-08 2pm: I normally use about 1 gigabyte of web traffic per day. This Stumble-upon has brought that to 150 gigabytes/day and 150 thousand page requests/day for the last 2 days. Dreamhost allows me 7 terabytes/month so I should be fine for bandwidth. My Apache Analog stats says that I've had only a couple hundred failed file serves out of the approximately 6 million file requests in the last couple days, which is shows Dreamhost is handling the traffic fine.
Since upping the Super Cache Settings, I've gotten just 1 core dump at 23:59 last night. I'm guessing that garbage collection and bad luck conspire to cause a core dump every now and then.