It was a little windy on the first day of Burning Man…. errr…. a 4 hour white-out. So I climbed to the top of the Man structure, hoping that it would be above the dust. A few years earlier, I had climbed onto a 12′ tall flower-thing and it was astounding; it was like I was on top of a cloud bank, just a dozen feet above the earth! But not this time…
.
.
It was Sunday night of the Temple burn… Charlie had a car. Rigger's art,  Bizzaro Saguaro  was in Illumination Village. Put them together and you've got an art-car ready to drive out to the Temple!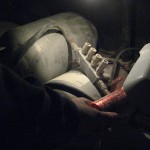 On the way out to the temple, we were in another white out. The whole car (all… 20 or so of us) roared with laughter when we saw that Charlie had gotten lost and we were headed straight for Center Camp! Not one of us could have done any better, crawling along at 3 miles an hour in a dust storm. We arrived on the scene just as the temple was being lit. We hung around for about 20 minutes… this year's temple was built with a very airy frame… such that it just wouldn't fall over! It was cold and WINDY so we took off… another 20 minute leisurely  drive in the wind back to Ill Ville.  
My favorite "Safety 3rd" moment is pulling a beer out of the trunk…. Yes, that's 2 propane cylinders hooked up to a quick-release manifold and ball-valve powering the cactus on the hood of the car.
.
.
Marcus is a friend and unicycle enthusiast. It's astounding seeing him ride on the esplanade.
.
.
I want one of these for Christmas
.
.
This is the kind of perfect insanity that makes Burning Man worthwhile. A 20′ tall, 50′ long, mobile, flaming trojan duckie. I walked around it and was amazed at the the care taken in it's construction. It's a beautiful mammoth vehicle.