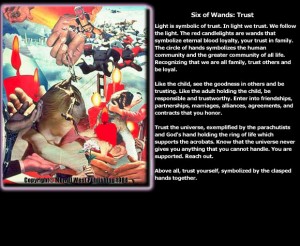 I give little creedence to the thought that Tarot draw upon supernatural powers (maybe a tiny bit of creedence, but certainly very very little). But they are certainly good as a meditation on a subject. It can be something that helps you focus your thoughts on a matter.
And then this comes along… This is the card Charlotte recently drew from the Voyager Tarot when meditating about her uncertain future and the thoughts of moving west.
This is the trust card… You may notice the Golden Gate bridge and the SF skyline… and it's probably nothing but I mailed her a little plastic frog a few days before she pulled the card.
I'm reminded of the famous scene in the 1995 Mighty Morphin Power Rangers Movie just after the Rangers got their powers. One is embued with the majestic powers of a giant mechanized crane, another gains giant ape powers. And Adam… well… Dulcea looked at the forlorn new Black Ranger Adam. She asked, "Adam, what is wrong?"
Adam responds with a sullen expression of frustration and futility saying, "I'm a frog."
I'm glad I saw it in the theater. Heck it was way better than Star Wars I.